Forms
Bootstrap makes styling forms easy and fast.
.form-group
Use .form-group to organize sections of your forms
Can be used on block elements like fieldset or div
.form-control
Use to style...
Textual inputs (e.g. text, number, email)
Select menus
Textareas
.radio and .checkbox
Use to style radios and checkboxes, of course.
Buttons
Add a .btn class along with a style class to your button.
Bootstrap has six styles and variations.
Button tweaks
Use .btn-lg or .btn-sm for larger or smaller buttons, respectively.
Use .btn-block for block-level buttons.
Use disabled attribute to disable your buttons.
Cards
Flexible, extensible content container
Replaced Bootstrap 3's old panels and thumbnails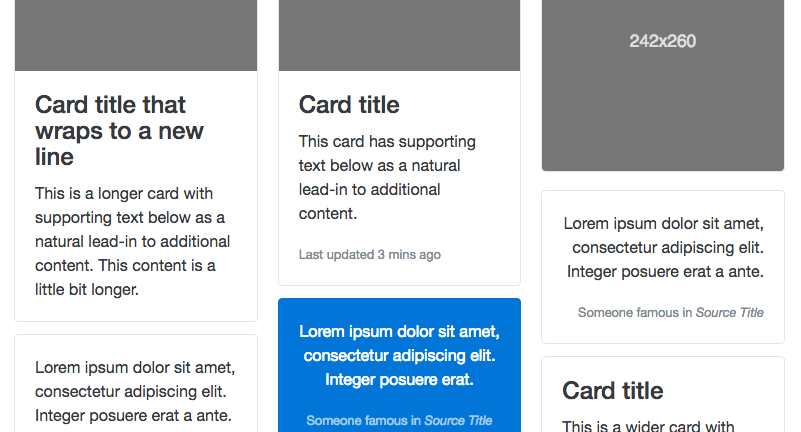 Cards Content Types
A variety is supported! Mix and match.
.card-img-*, .card-title, .card-text,
.card-list*, .card-link.
Cards Organization
Use .card-group, .card-deck, or .card-column
.card-column creates a Pinterest-board affect.
Bootstrap Usage and Tips
Before you start creating custom CSS for your design, check the Bootstrap documentation to see if they've already created a class that does what you want.
Always be reusing, check if other developers have created a Bootstrap plugin you can leverage
Customize Bootstrap
Want to customize your Bootstrap page even more?
Just create your own CSS and include it in the head, below the Bootstrap CSS to add and override styles!
Font Awesome
A font and CSS toolkit originally designed for Bootstrap.
Easily styled with just CSS and fully accessible.
Just add one line in your head to start using it.
Sass
Sass is is the most mature, stable, and powerful professional grade CSS extension language in the world.
CSS with superpowers! Reuse variables, mixins, etc
Bootstrap uses Sass style sheets to define base colors, types